Social Media's Role in the US Election, Responsible Tech Guide, and more!
Join our upcoming livestream on October 29th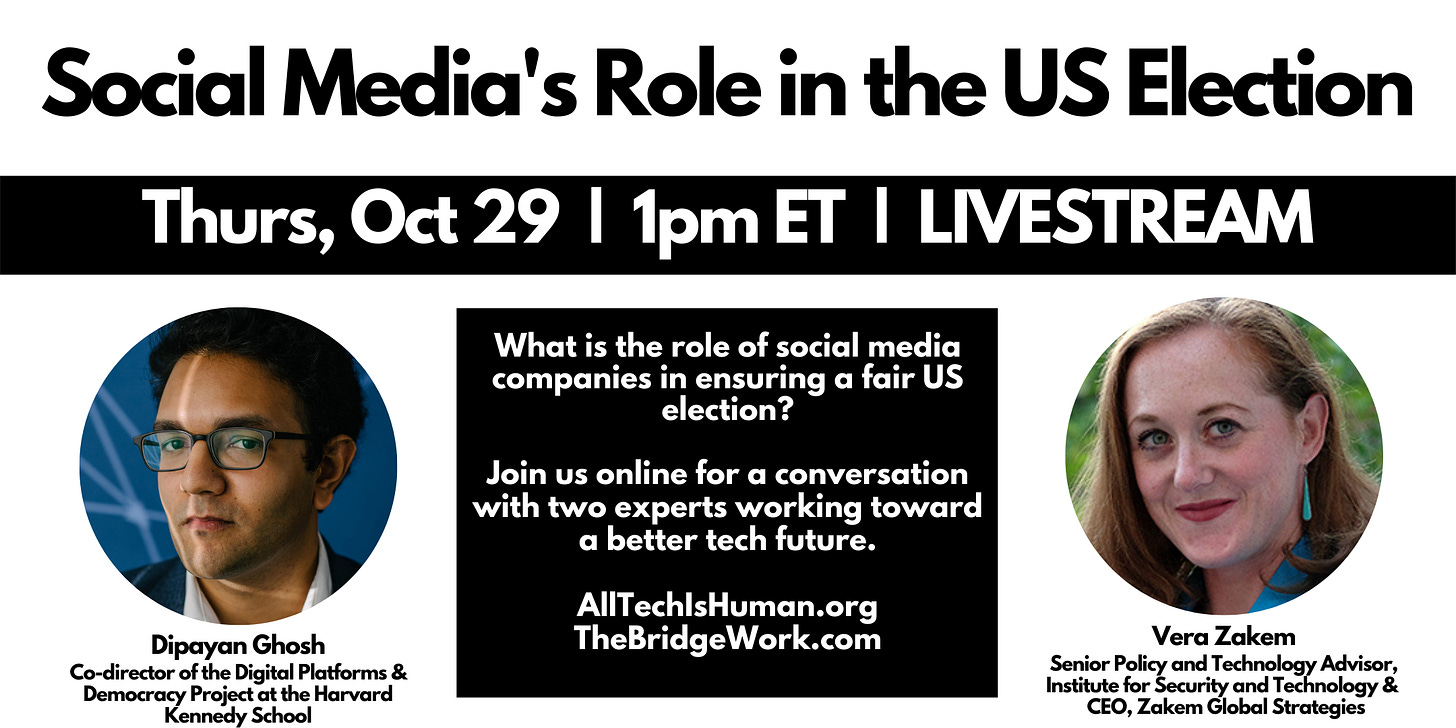 So there's a major election happening on November 3rd and people are increasingly concerned about the role that social media will (or will not) play. How can platforms curb misinformation? Will platforms be weaponized toward voter intimidation & confusion?
Join us on Thursday, October 29th at 1pm ET for a highly-interactive 45-minute conversation with two leading experts and YOUR questions and comments (with many going on screen). This is part of our livestream series with TheBridge, along with follow-up resources and podcast by the Radical AI Podcast.
Our special guests are Dipayan Ghosh (co-director of the Digital Platforms & Democracy Project at the Harvard Kennedy School, author of Terms of Disservice, & former public policy advisor at Facebook) & Vera Zakem (Senior Policy and Technology Advisor, Institute for Security and Technology, CEO of Zakem Global Strategies, & former strategy and research at Twitter). This conversation is being moderated by All Tech Is Human's David Ryan Polgar (who is also a member of TikTok's Content Advisory Council).
SIGN UP FOR OUR LIVESTREAM ON SOCIAL MEDIA'S ROLE IN THE US ELECTION | THURS, OCT 29 at 1pm ET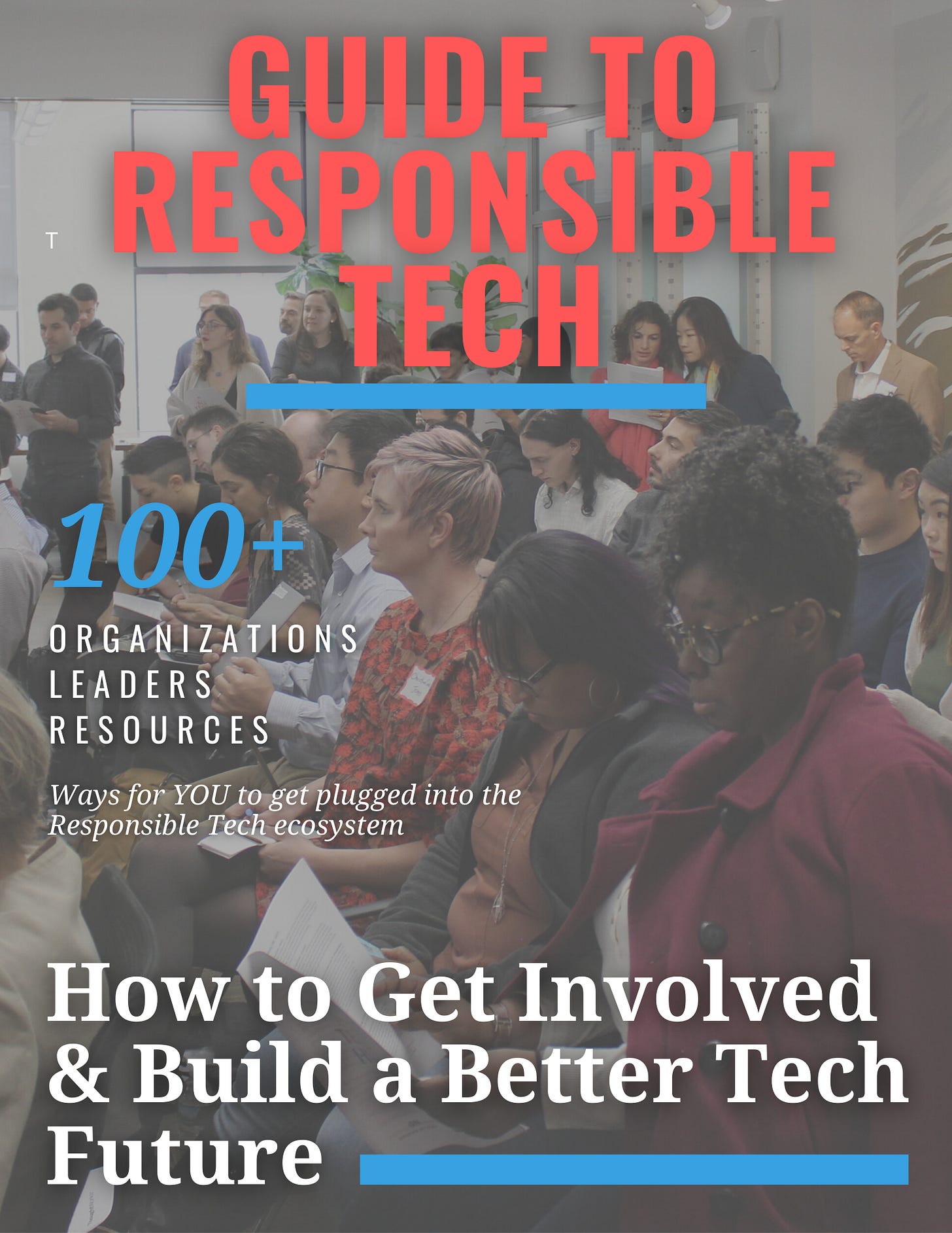 The response to our recently-released "Responsible Tech Guide" has been overwhelming! This free resource, released in partnership with NYU's Alliance for Public Interest Technology, is aimed at college students, grad students, and young professionals looking to get plugged into the ecosystem. Released on September 16th, it has already surpassed 11k reads on Scribd and thousands more from its activity on LinkedIn. You can find this resource, which will be regularly updated, at ResponsibleTechGuide.com.
We'd love your feedback about how you are using the Responsible Tech Guide and also what we should add in future versions! If you are looking for the PDF, click here or email us at Hello@AllTechIsHuman.org
Here at All Tech Is Human, we have been piecing together the people, orgs, and ideas of the Responsible Tech movement. The intelligence we gathered from inaugural ethical tech summit in NYC in October 2018, then our gatherings last year in Seattle, San Francisco, and NYC, helped us inform the Responsible Tech Guide. One issue we have stumbled on over and over is that there is a diverse group of people wanting to take an active role in building a better tech future, but often feels left on the sidelines. We need everyone involved.
There is a major problem with poor representation and access to information. The Responsible Tech Guide is our first step in showcasing the diversity of the movement and also help provide onboarding into the space.
Our aim as an organization is to make the tech industry more diverse, thoughtful, and multidisciplinary. All "tech problems" have social roots. That's why we are called All Tech Is Human; we view these issues through a sociotechnical lens.
Does this mission speak to you? We are actively looking for way to fulfill our mission and grow our organization in order to make a major impact. Reach out if you can help us grow!
-All Tech Is Human (Hello@AllTechIsHuman.org)